We are very lucky to have a DesignJet 500 24" wide format printer/plotter, as well as a wide format laminator.
Even though it's "only" an older four colour printer, it still produces great output.
Some of it's other features include:
built in roll feeder and cutter
optical scanner for checking paper alignment
vacuum hold down to make it easier to load single sheets
Steps to Use
Setup
Double check your page size compared to standard ANSI/European paper sizes. Absolute limits of the machine are listed here.
Remember to allow a non-printing margin around all sides. This can be as small as 5mm with correct "small margin" settings
Drivers are installed on the larger tower PC on the left side under the window. Or you can install the drivers on your own Laptop from here. Be sure to check the default OS. The Windows 8.1 64bit drivers still work on Windows 10.
Plugging in the Printer
Roll it over to the PC that you will print from.
Plug it into power. It always turns on when plugged in(!)
Wait for it to completely start up.
Plug in the USB cord.
Loading Paper
Single Sheet
The built in paper edge scanner and platen vacuum make this very easy.
This video explains the process clearly: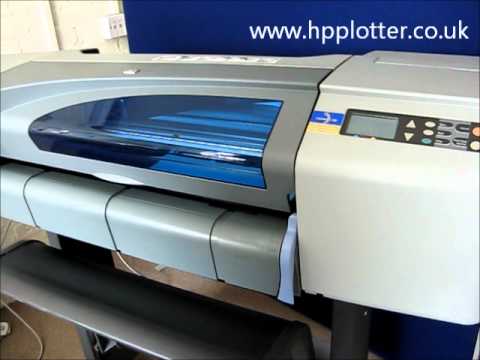 Roll
This video clearly describes the process: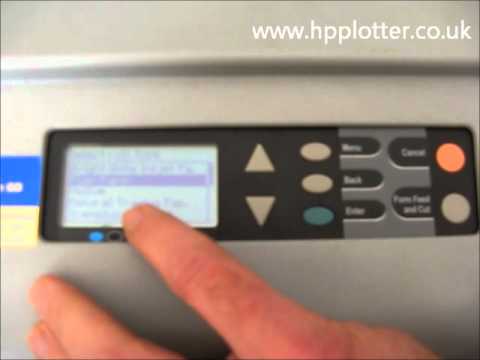 Print Job Setup
Be prepared to export as PDF and print from Adobe Acrobat reader- many programs fail to print large format directly.
GO THROUGH ALL THE DRIVER OPTIONS BEFORE YOU PRINT!
Make sure your colour, contrast, print size, etc make sense. Double check your portrait/landscape settings make sense to the paper you've loaded.
If there's a lot of bitmap imagery: go into the driver and make sure the setting to process everything on the PC is enabled.
(The printer has both HPGL and "dumb" modes. HPGL allows more of the work to be down on the printer, but it lacks enough memory to manage larger images.)
Problems
The orientation is opposite to what I want
Your smarts + printers smarts have cancelled each other out. Make sure the correct paper size is selected on the printer, it matches what's set in the printer settings, and finally, what you've set in the software.
Parts of my Image are Missing
E.g. certain letters, parts of images, weird/degraded/missing colours.
You're probably sending the job as HPGL and the printer is running out of memory. See above instructions re enabling the "do all processing on PC" option.